Roller reefing / Roller furling Gear
POLES
MAIN SAIL FURLING and REEFING
REEFING and LazyJacks
MAIN SAIL TRACK SYSTEMS
STANDING RIGGING
SWAGE TERMINALS and toggles
INNER FORESTAY TOOLS AND MISC HARDWARE
LIFE LINES
RUNNING RIGGING
BLOCKS
WINCHES
ANTAL
TRAVELERS
BOOM VANGS
RIGID VANGS
GROUND TACKLE
WINDLASSES
MAST CLIMBING
tools, lubes steering
tools, lubes and steering
RADAR MOUNTS AND REFLECTORS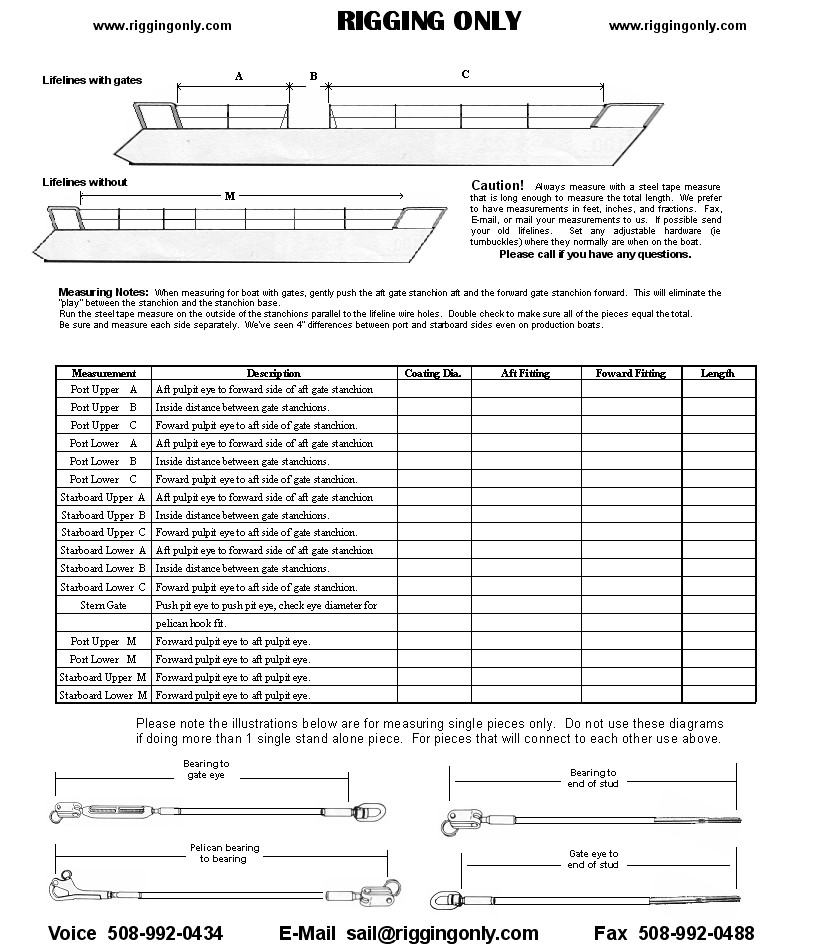 right click on measuring form and select print picture to print in the drop down box
Caution! Always measure with a steel tape measure that is long enough to measure the total length. We prefer to have measurements in feet, inches, and fractions. Fax, E-mail, or mail your measurements to us. If possible send your old lifelines. Set any adjustable hardware (ie turnbuckles) where they normally are when on the boat. Please call if you have any questions.
Measuring Notes:
When measuring for a boat with gates gently push the aft gate stanchion aft and the forward gate stanchion forward. This will eliminate the "play" between the stanchion and the stanchion base.
Run the steel tape measure on the outside of the stanchions parallel to the lifeline wire holes. Double check to make sure all of the pieces equal the total.
Be sure and measure each side separately. We've seen 4" differences between port and starboard sides even on production boats.
Please print the following chart. Use the landscape view in page set up, options, and you will only need pages 1-3. It will be much easier to make sense of what needs to be done.